Many couples tend to confuse intimacy with sexual activities in their relationship. What they don't know, however, is that true intimacy comes in many forms, all of which have to do with building trust and enhancing closeness between partners.
Being in a relationship comes with a myriad of struggles, including everything from emotional withdrawal and silent treatment to engulfment and control. For many people, dealing with issues in their personal relationships can take a great toll on their mental health and decrease the overall quality of their lives. That's why building intimacy with your partner is a must if you want you and your partner to be happy and your relationship to last.
In this blog post, we'll tell you all about the meaning of intimacy and how to improve intimacy in a relationship.
What Is Intimacy In A Relationship?
What does true intimacy mean? Well, by definition, intimacy involves feelings of closeness, vulnerability, and openness between partners in a relationship. While intimate relationships typically include physical acts of love, they don't necessarily have to be sexual.
A sexual relationship may or may not include emotional intimacy between two partners. This is why we may have one-night stands and other sexual acts that don't involve intimacy and love.
What Are The Four Types Of Intimacy?
Intimacy manifests itself in many ways. A healthy relationship would include and nourish each of the following types of intimacy:
Emotional intimacy means that you are able to share your deepest thoughts and feelings with your partner and don't fear being vulnerable around them. Nourishing this form of intimacy is essential for maintaining a healthy relationship.
Physical intimacy entails acts of affection between two partners. While this type of intimacy does involve sexual activities, it isn't the same as sexual intimacy. It also involves everything from kissing and hugging to holding hands with your partner.
Intellectual intimacy includes sharing thoughts, ideas, and feelings with your partner. For instance, talking about your interests and favorite music will help you deepen the intellectual or cognitive intimacy with your partner.
Experiential intimacy means sharing experiences with your partner, whether it's traveling together, taking a walk, going to the movies, or any other activity that can bring you closer together.
How Do You Rebuild Intimacy In A Relationship?
Building intimacy in a relationship is crucial if you want to have a mature and lasting bond with your partner. Here are some tips for restoring the feelings of intimacy in your relationship.
Talk Things Through
If you no longer feel connected to your partner, you should first try to determine the underlying struggles that may have caused your emotional intimacy issues and have an honest conversation about them. Just make sure to be completely honest and attentive to what your partner has to say – healthy communication in a relationship is a must if you want it to work.
Share Experiences
Instead of spending your evenings on your phone while your partner is on a computer, try engaging in activities you both get to enjoy. For instance, going on a weekend trip or simply seeing a movie together will help build a stronger bond and bring you closer together.
Work On Physical Intimacy Too
While emotional intimacy should definitely be your starting point, it's important that you don't neglect the physical aspect of the relationship. Sexual activities and other physical acts of love, such as cuddling and hugging, can greatly improve your mood and help you reconnect with your partner.
Give It Time
You can't rebuild intimacy overnight, especially if you're trying to repair a relationship after a crisis or infidelity. If you are patient with your partner and communicate openly with them, you will manage to rebuild trust and deepen the connection over time.
What Are Some Good Relationship-Building Activities For Couples?
No relationship can work without effort from both parties. If you and your partner need help maintaining intimacy, experts recommend the following healthy relationship workshop activities for strengthening the bond with your partner:
Extend cuddle time: many couples get so lost in their busy lives that they forget to cuddle. Cuddling a couple of times per week can do wonders for deepening the connection with your partner.
Allow your partner to vent: a great exercise for enhancing intimacy is to have uninterrupted listening sessions. This means that you should set a timer, let your partner speak and simply listen to what they have to say, without judgment and defensiveness.
Play the 5 things game: this simple but versatile exercise is both fun and effective. It involves you and your partner taking turns to state five things on a certain topic, such as "what are the five things you'd like to change in your life", or anything along those lines.
Engage in soul gazing: Sit face to face with your partner with your knees almost touching. Try to maintain eye contact and say nothing for around 3-5 minutes. You can make the exercise easier by playing a song and trying soul gaze while it lasts.
Have weekly meetings: Many relationship struggles arise from a lack of communication between partners. By having conversations without distractions every week, you can get insight into your partner's thoughts and avoid communication errors.
It's important to note that you shouldn't expect immediate change if you do these exercises a couple of times and then go back to your old ways. Rebuilding a relationship takes time, especially if you're dealing with issues like dealing with codependency in a relationship or struggling with love addiction.
That is why couples can greatly benefit from relationship coaching or attending intensive workshops aided by seasoned professionals who can help them rekindle intimacy in a healthy way.
Rebuild Your Bond With Modern Relationship Intimacy Coaching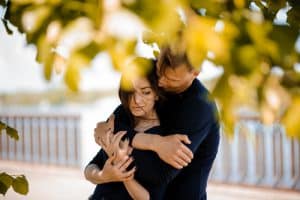 Sometimes, a relationship can keep going downhill no matter how hard you try to maintain a healthy connection. This often happens because couples simply don't have the time to focus on actively working on their relationship with all the distractions they have to deal with in their everyday lives. Because of this, many couples find that relationship coaching can be highly beneficial for enhancing intimacy and building lasting bonds between them.
With PIVOT, you can transform your relationship swiftly and effectively with the help of our seasoned PIVOT Advocates. In addition to our relationship coaching programs, we also offer customized couples retreats at The Glass House where you can work on your relationship with complete focus and bring about immediate change.
Why wait? Reach out to us today and make your relationship thrive!